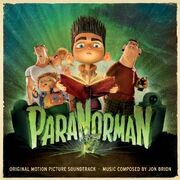 ParaNorman: Original Motion Picture Soundtrack
 includes the scores from
the film
. All of the scores are composed by
Jon Brion
.
Track Listing
Zombie Attacks in the Eighties
Norman at the Piano/ Main Title 
Norman's Walk
Alvin Attacks
Goodbye Mr. P/ Historic Drama / Grounded / Heavy Visitation
Alvin Again / Scary Bedroom
Norman Tries to Keep it Cool / Grandma's Got Your Back
Moth Rock
The Dead Shall Be Raised
Zombies Attack
People Attack
Are We There Yet?
Aggie Fights
Resolution
Oh, and One More Thing 
Other Tracks
Below is a list of songs/tracks used in the film but aren't included in the soundtrack. 
Little Ghost by The White Stripes (played in the end credits)
Fix Up, Look Sharp by Dizzee Rascal (played on Alvin's boombox)
Minuetto/Minuet by Arturo Chaney (original piece by Luigi Boccherini, played in Salma's room)
Na Na Na by Dennis Winslow and

 Ronn L. Chick

"Halloween" Theme by John Carpenter (played as Norman's ringtone)
 Season of the Witch by Donovan (played in the trailers)
 All Out of Love by Clive Davis and Graham Russell
Trivia
Track 14 (Aggie Fights) wasn't used in the film. Instead the film version is much more battled-themed. It could be that this was the original track intended to be put in the film.